As a teaching unit at grassroots level, the School of Foreign Languages regards the quality of teaching as our top priority. Recent years have witness tangible advances in the College English Department. On one hand, it has implemented targeted teaching based on students' English level by optimizing curriculum, strengthening daily teaching management and constructing the second set of curriculum, boosting teaching efficiency and effects significantly; on the other hand, 4 distinctive teaching teams and 11 communities of teaching, learning and researches were organized centered on the curriculum construction, greatly promoting the integration of teaching, learning and researches, and thus ensures the sustainable development of our school.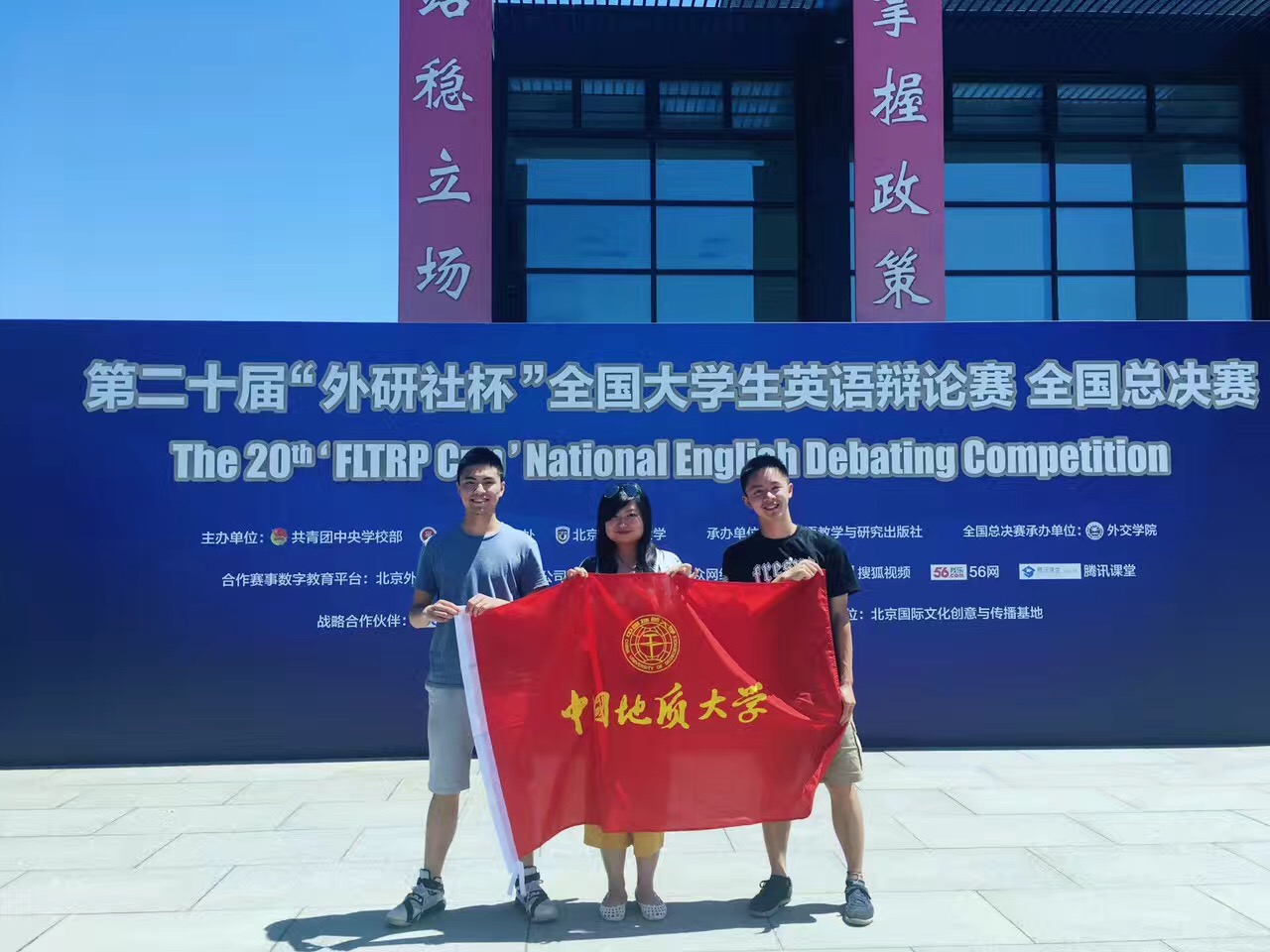 The 2nd Prize in the National Final of the 20th "FLTRP Cup" National English Debating Competition
The teaching and research section for English Major students and the teaching and research section for Second Languages closely set sight on the talents cultivation goal of "of high moral character, with solid academic foundation, profound professional skills, and the consistency of knowing and doing". The talent training model, featuring "solid knowledge base, wide calibers of input and strong pragmatic skills", has been developed. To pay tribute to his alma mater, alumni Mr. Liu Peng provided donation to our school and helped to set up the "Bailey Scholarship" and "Bailey Faculty Fellowship", promoting the training of outstanding students and teachers in our school.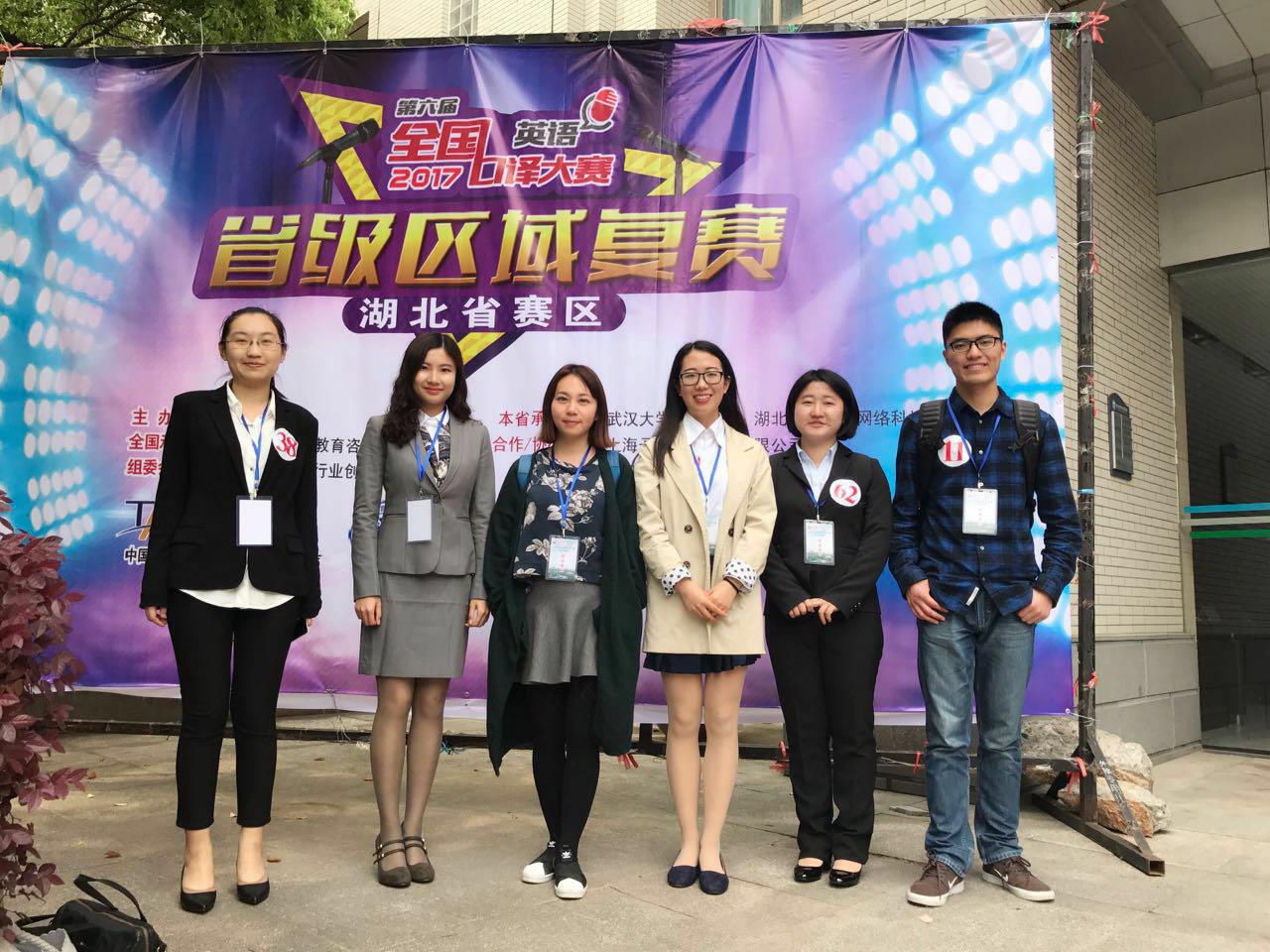 YIN Manshu(2nd from Right) Won the 3rd Prize in the Hubei Division of the 6th National Interpretation Competition
Over the years, English-major undergraduate students have excelled in TEM4 and TEM8 examinations, with their passing rates far higher than two exams' average passing rate of national science and engineering college as well as that of the national average. In addition, more than 90 national-level and provincial-level prizes have been awarded to our students, marking significant progress of undergraduate students' performance in professional competitions at all levels both in quantity and quality.
From 2005 to 2018, our school has recruited a total of 1028 graduate students and awarded master's degrees to 865 students. At present, our school is equipped with 4 postgraduate internship bases and 5 MTI internship bases.
From 2015 to 2018, 25 graduate students has participated in international academic conferences, and more than 100 graduate students have participated in domestic academic conferences. Each year witnesses 3 or 4 graduate students volunteer teaching Chinese as a foreign language at the Confucius Institute for 1-2 years; through self-funding or funds from the China Scholarship Council, Hanban, Hong Kong Tianda Institute and other institutions, 16 students participated in world-renowned universities exchange programs in various countries and regions, including the United States, Britain, Russia, Canada, Taiwan and etc.
For all these years, by continuously optimizing all aspects of talent cultivation, actively encouraging students find employment and start their own businesses, our school has witnessed constant rising employment rate among undergraduate and postgraduate students in recent years, with average level above 95%.